Biglietti / Ticket level system
Le Giornate della Fermentazione sono un evento dedicato alla promozione e celebrazione della fermentazione. Gli appassionati, i produttori e il pubblico si riuniscono per esplorare, imparare e gustare prodotti fermentati. Le aree includono il mercato, le presentazioni, l'educazione, i privilegi VIP e l'organizzazione dei volontari.


The "Giornate della Fermentazione" is an event dedicated to the promotion and celebration of fermentation. Enthusiasts, producers, and the public come together to explore, learn, and taste fermented products. The areas include the market, presentations, education, VIP privileges, and volunteer organization.
Livelli di partecipazione:

Area Viola: Cantine Aperte "Cima Norma"
Area Arancione: Mercato Circolare
Area Gialla: Presentazioni / Relatori / Artisti

Area Verde: Educazione / Corsi

Area Rossa: VIP / Sostenitori

Area Blu: Organizzazione / Volontari

Participation Levels: Orange Area:
Purple Area: Open House "Cima Norma"
Organge Area: Cirucular Market
Yellow Area: Presentations / Speakers / Artists
Green Area: Education / Courses

Red Area: VIP / Supporters

Blue Area: Organization / Volunteers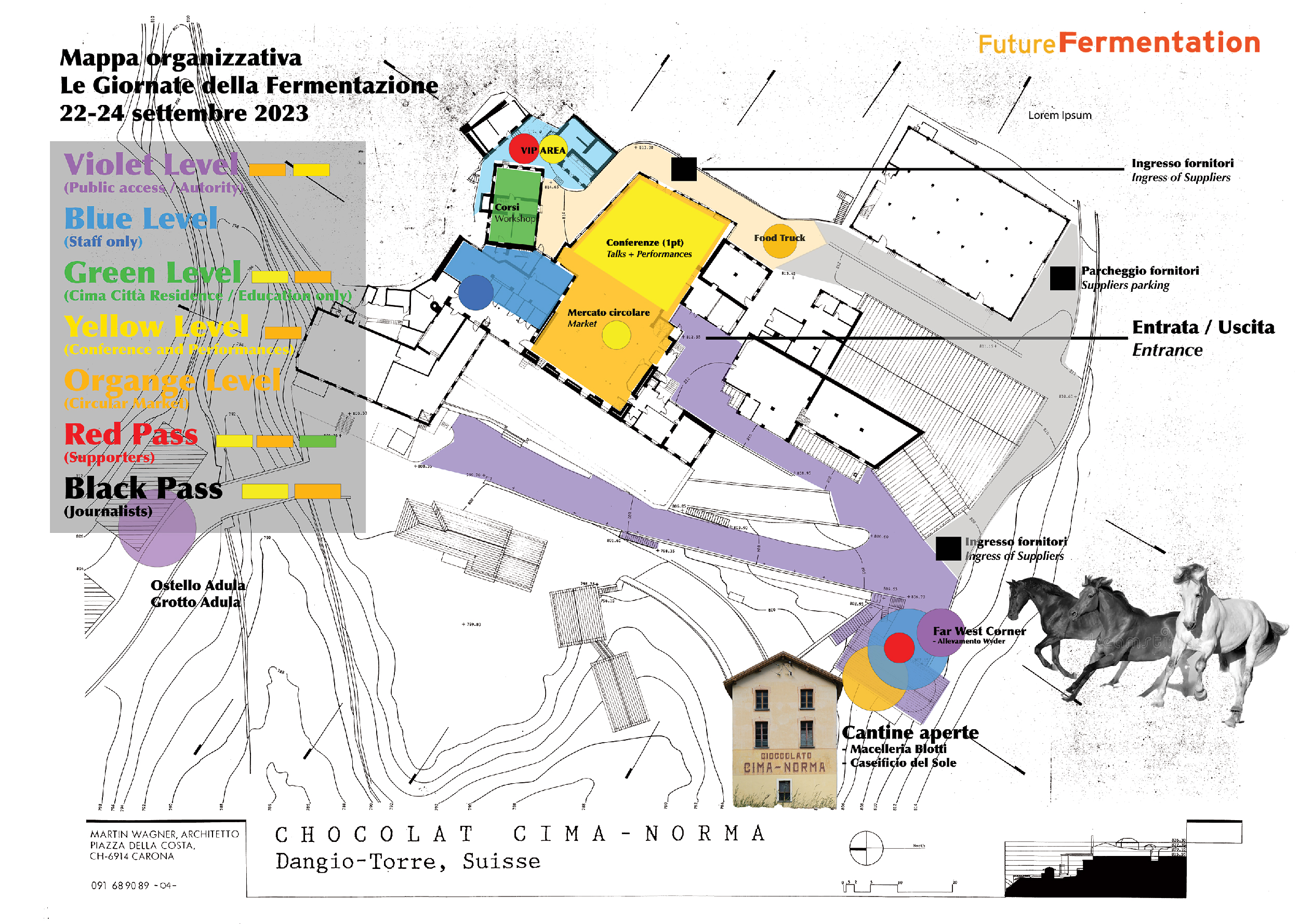 Viola / Purple
Cantine Aperte "Cima Norma"
A questo livello avremo le Cantine Aperte, in collaborazione con il rinomato Caseificio del Sole e la prestigiosa Macelleria Blotti e anche alla preziosa partecipazione dell'Allevamento Wyder, che delizierà i visitatori con suggestivi giri della Cima Norma a Cavallo, un'emozionante atmosfera da "Far West" prenderà vita, contraddistinta da un avvolgente e affascinante colore viola.
At this level, we will have the "Cantine Aperte" (Open Cellars), in collaboration with the renowned "Caseificio del Sole" (Sun Dairy) and the prestigious "Macelleria Blotti" (Blotti Butcher Shop), but also with the valuable participation of the "Allevamento Wyder" (Wyder Farm), which will delight visitors with captivating rides of the "Cima Norma" on horseback. An exciting "Far West" atmosphere will come to life, characterized by a enveloping and charming purple color.
The market level includes producers. Guests need to pay a fee of 5.- to access the market. Attention: Those who purchase any other type of ticket will have access to the Orange Area included.
Arancio / Orange
Market / Productors Level)
Il livello del mercato comprende i produttori. Gli ospiti devono pagare una tariffa di 5.- per accedere al mercato. Attenzione: coloro che acquistano qualsiasi altro tipo di biglietto avranno accesso incluso all'Area Arancione.
The market level includes producers. Guests need to pay a fee of 5.- to access the market. Attention: Those who purchase any other type of ticket will have access to the Orange Area included.
Giallo / Yellow Early Ticket
Conference / Ambassador Level
Early Bird Ticket for two days (Limited)
A livello di conferenza, abbiamo ambasciatori (relatori) e partecipanti alla conferenza. Ai partecipanti alla conferenza è richiesto di pagare una quota di 30.- per due giorni (anziché 50.-) per partecipare alla conferenza. Sono disponibili 30 biglietti!
At the conference level, we have ambassadors (speakers) and conference attendees. Conference attendees are required to pay a fee of 30.- for two days (instead of 50.-) to attend the conference. There are 30 tickets available!
Verde/Green
Workshops / Instructors Level (Cima Città)
Al livello educativo, i partecipanti paganti sono tenuti a versare le relative tariffe per i workshop, che di solito variano da 85.- a 110.-. Per le informazioni relative consultare il menù.
At the courses level, there are instructors and paying participants. Paying participants are required to pay the respective fees for workshops, which typically range from 85.- to 110.-. For the relevant information, please refer to the menu.
RED VIP Pass
Supporters Level
Il "RED VIP Pass" è un biglietto esclusivo che offre un'esperienza migliorata durante la conferenza. Acquistando questo pass, i partecipanti possono godere di diversi privilegi (spiegati nel processo di acquisto dei biglietti).
The "RED VIP Pass" is an exclusive ticket that offers an enhanced experience during the conference. By purchasing this pass, participants can enjoy different privileges (explained in the ticketing process).
Blue - Staff
Organization Level / Volontari
Il livello organizzativo dello staff è composto da volontari, relatori e produttori coinvolti nell'organizzazione. Essi sono esenti dal pagare qualsiasi tariffa di accesso.
Se vuoi accreditati come volontario, scrivici una email. Grazie.
The staff organizational level consists of volunteers, speakers, and producers involved in the organization. They are exempt from paying any fees for access.
If you want to volunteer, write us an email. Thank you.